Home
Home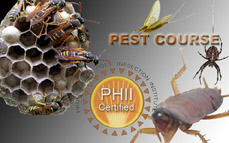 In nearly all parts of the US, wood-destroying organisms (WDO) cause thousands of dollars of damage to homes every year. Many potential homebuyers are cognizant of this, and may require a home to be inspected before a sale. In other cases, a bank or other underwriting institution may require a wood-destroying organisms inspection before a loan is approved. In either case, a certified structural pest inspector's services are required.
The
Pest course
offered through this website is the most comprehensive training program in pest management offered online from Professional Home Inspection Institute. The course teaches you not only about pests,but how to inspect for wood destroying organisms and write professional pest inspection reports. The course was written in accordance with EPA guidelines to enable you to obtain your structural pest inspector license (SPI) and add this lucrative service to your business.
The course
contains interactive lessons that will help you learn to identify and detect termites and other wood-destroying insects including beetles, ants, bees, and even fungi.
In addition to learning how to identify pests and report them to your clients, you will also learn the methods used for pest prevention and pest control so that you can add pesticide application as an additional service.
The Professional Home Inspection Institute
Pest Course
has been reviewed by a respected university entomologist for accuracy and to meet state guidelines for pest inspection courses.
Course lessons include information about the biology of damp wood, dry wood, and subterranean termites, anobiid beetles, wood borer beetles, powder post beetles, carpenter ants, moisture ants, leaf cutter bees, carpenter bees, blue stain fungus, brown/white rot, and more.
As you complete each lesson, you will use interactive flash cards and take practice quizzes that will test and verify your knowledge simultaneously through instant computerized feedback. Your computer records the results so you can easily track your progress. When you finish the course and pass the final exams, you will possess the knowledge and skills needed to inspect for pests and to obtain your SPI license.